Golden Triangle excursions in India provide a complete view of the country's cultural variety. This tour is a fantastic way to sample Indian customs, art, culture, and legacy if you visit these areas for the first time. You will tour the Delhi Jaipur Agra on this tour.
The Golden Triangle Tour, India's most popular tourist circuit, includes visits to three of the country's most famous cities. The names of the cities are Delhi, Agra, and Jaipur. The three cities' position is in a triangle pattern on the map, approximately 200-250 kilometres apart. Due to easy availability, this golden triangle is more prevalent among travellers looking for a memorable vacation in a short amount of time.
If you want to learn more about India, the golden triangle attractions of Delhi, Jaipur, and Agra are the finest places to travel.
Book your Golden Triangle India tour with LIH Travels to make the best of the trip.
Best Time to Avail the Golden Triangle Tour:
The Delhi, Jaipur Agra cities are hotter in the summer seasons. As a result, you should establish your plans between August and March.
Start from Delhi
Delhi Jaipur Agra tour from Delhi. Many rulers owned this city and ruled over it. This is why you can see different religious cultures in one place. Delhi is split into two parts: New Delhi and Old Delhi. You can only see most historical sites in Old Delhi, whereas New Delhi is famous as a modern metropolis.
List some familiar places in Delhi that you must visit through the golden triangle tour.
India Gate

You can see the names of heroic soldiers on our India gate, which is the All India War Memorial. The Amar Jawan Jyoti is a perpetual flame that commemorates the bravery of the dead soldiers. There is a green park near India gate that is a nice place.
Red Fort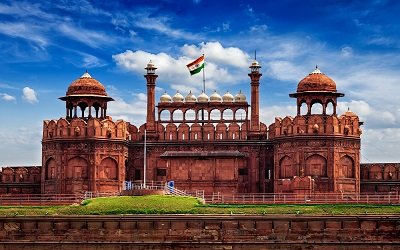 Red Fort is a trendy place in Delhi. The whole fort's color is red, and inside the red fort, you can see different palaces, such as Diwan-e-Am, Sheesh Mahal, etc.
Pure Mughal architecture with Indian touch will attract you to spend more time.
Qutub Minar
It is famous worldwide as this is the tallest minaret in the world.
You can see different tombs and some iron pillars, which are rust-free after thousands of years.
Lotus Temple
Lotus temple is famous for its outstanding architecture, which is a lotus shape. The nearby gardens and site sceneries attract more people to visit this place.
Besides these historical places, there are many shopping places to get everything cheaper than in other areas. Some famous markets are Karol bagh, Sarojini Nagar, Chandni Chowk, Dilli Haat, etc. So after your trip don't forget to visit these areas when on the Delhi Jaipur Agra tour.
Agra
You will see a Mughal charm in every place when in Agra. The Taj Mahal is most famous as one of the masterpieces of the globe.
The distance from the capital is only 230 km, and you can visit some other places there. Here are the lists of some sites.
Taj Mahal
The Taj Mahal is primarily famous for the icon of love. The Taj Mahal is covered with white marble and is close to the Yamuna river. The unique design of the Taj Mahal and the surrounding gardens' view attract more visitors from all over the world. The Taj Mahal is among the most amazing areas in India's golden triangle.
Agra Fort
The Agra Fort is the Mughal's crowning achievement. The whole fort is full of red stones. Its unique architecture is so eye-catching, and it is one of the most famous places in Agra. Inside the fort, there are many palaces, such as the royal house, sheesh mahal, etc.
Fatehpur Sikri
Fatehpur Sikri is famous for the name the City of Victory. In the era of the Mughal empire, this place was their capital only for 10 years. You can see different edifices and temples with unique designs. Some more areas such as Juma masjid, Buland Darwaza, Birbal Bhawan, and many more things you can explore during your travels.
This is a must on your Delhi Jaipur Agra circuit.
Jaipur
The city of pink Jaipur is a royal city-state. You can see different palaces and forts everywhere. The third city in India's triangle area is Jaipur Visit this city to see various palaces, forts, and Rajasthani cultures. Here is the list of a few places.
Hawa Mahal
Hawa Mahal is a good place in Jaipur. The five-story palace with so many windows will feel like a honey bee house, which allows the air to pass through.
The City Palace
The City Palace is a regal home in the city's center. So, this royal palace in Jaipur is a magnificent structure that combines Rajput and Mughal styles. Further, you can see memorial marks from the past, with beautiful paintings and decorations.
Amber Fort
You can see this Amber fort over the Aravalli hills. Mostly sandstone and marble were used to make this fort. So, the royal Jaipur family was staying here before. Inside the fort, there are different palaces that you should explore if you are visiting this fort.
Besides these places also there are many more places you can visit. Such as Jal Mahal, Jantar Mantar, Birla Temple etc. Also, you can enjoy some traditional foods and go shopping.
So, these were some of the places on the Delhi Jaipur Agra tour.
Conclusion
All these places are unique and with different architecture, which tells the history of Indian culture. With this Golden triangle tour, you can explore many more famous places in India. So plan your tourist places in Delhi Jaipur Agra and make your tour more memorable.